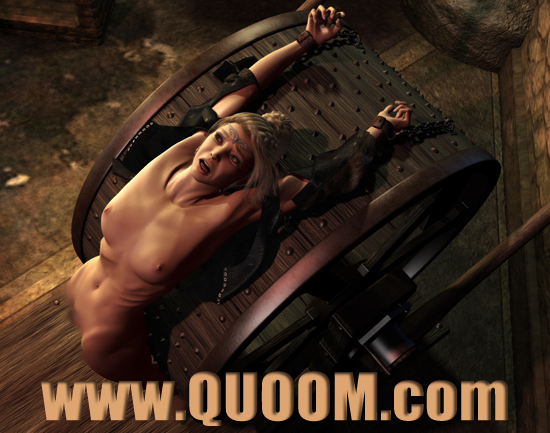 IMPORTANT NOTICE:
All characters are 18 years old or older.
All action is simulated and involves no real people.
The authors/publishers do not condone violence of any kind.
These are completely fictional comics for adult entertainment.
IMPORTANT NOTICE
"We regret to say that artist Quoom is no longer updating his content. The site is no longer updated with new content"

WEBMASTER

***********
Welcome to the dungeons of my dark fantasies. Some years ago, when I looked for an alias to publish my pix I just read Terry Pratchett's 'Discworld Companion' and found this entry:
"Quoom, Ischmall: Inquisitor first class, Ischmall 'Daddy' Quoom, lives in retirement in Omnien. After 50 years of work he left the knives and the sharp, corkscrew-like tools to a successor. He is known as a kind, good-natured man who always found the time to explain in detail to his apprentices, how to break all the bones in a human body (belong them the small, hard to break at the fingers). In his leisure time he is breeding canary-birds."
Well, besides the facts that retirement is far away in the future and I don't breed any canary-birds (it would only be food for the cats) I found this description not bad, and so 'QUOOM' was born.
Meanwhile I have published a lot of pictures, some on freesiTes, some on yahoogroups, some on paysites like BDSMartwork.com and I've got a large number of mails asking for my own website. And now finally it is here. It's a paysite, but unfortunately money rules the world and the expected bandwidth (and also the laws in my country) don't allow me to make a free site with these kind of pix. I will try my best that you get something for your money, and that you will not be disappointed.
Feel free to write me your comments and suggestions; usually I don't make commission work, but many of the ideas and stories are inspired by others, movies, stories, chats and mails, so maybe you will find your own fantasy some times in one of the pix.
Special thanks to Nuria who made this site possible and to my 'willing victims' in the virtual torture-chambers of the cyberspace, who share my fantasies and are the actresses in most of the pictures and stories of this side.
QUOOM